This article was updated and rechecked on 3rd of May 2021
Category: PC Components & Maintenance
Added: 1st of April 2021
Updated On: 3rd of May 2021
Viewed: 1,995 times
Related Tips & Tutorials
➔
Switching from Windows to Linux, three ways to Install and try a Linux distribution without dual booting
---
ICY BOX IB-173SSK Mobile Rack for 2.5" & 3.5" SATA, SSD, HDD
It's always hard trying to find a use for these older hard drives, you can sell them on marketplaces like Ebay, but then you need to take in to account the time it takes to correctly wipe the drives, versus the money your going to get back for them, sometimes it hardly seems worth it, especially with the lower capacity drives.

Since I like to try out different Linux distributions and have quite a few 2.5" and 3.5" SATA / SSD drives laying around, I decided to start putting them to use by purchasing the ICY BOX IB-173SSK Mobile Rack for 2.5" & 3.5" SATA/SAS HDD drives.




One big advantage of installing a new Linux distribution on a separate drive over a virtual machine is performance.

If your also a Windows user looking to try Linux for the first time, instead of installing Linux alongside Windows, or as a Virtual Machine, you can install Linux on a completely separate drive. If you need to go back to Windows at anytime you just need to eject the drive with the Linux distribution, and insert the drive with your Windows installation.

Installing the ICY BOX IB-173SSK
The rack fits in the spare 5.25" DVD drive of your PC case, or by removing your existing DVD drive.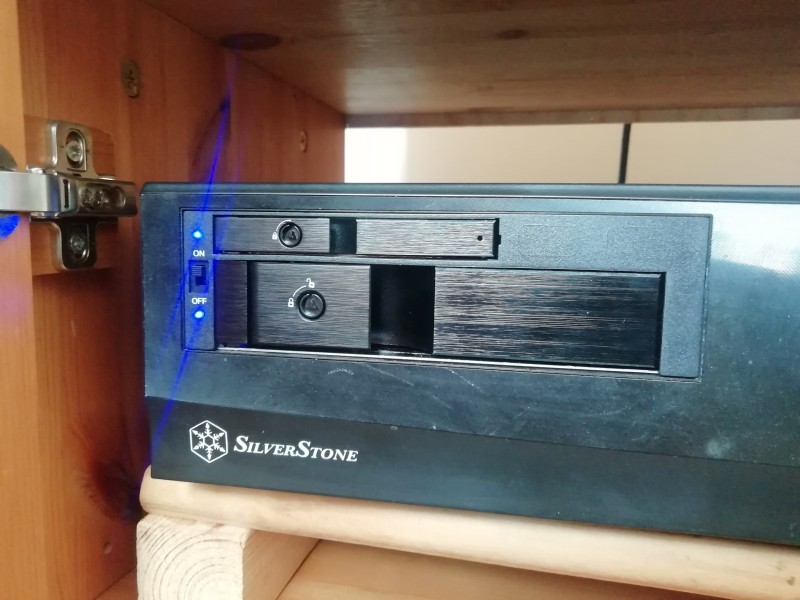 To connect the mobile rack to your motherboard, it's just a simple case of running two SATA cables, one for 2.5" drive and one for the 3.5" drive from the mobile rack to the SATA ports on your motherboard, and then one power connector from your power supply to the connector on the back of the mobile rack.




I did experience one issue with one of the SATA cables hitting my power supply, meaning that the unit didn't sit flush with the front of my case, but this was easily resolved by purchasing a new SATA cable with a right angle connector.

Also when inserting a 3.5" HDD, I wanted to see if the drive would mount, but for some reason the drive spins up and then spins down, I don't know if this is a power supply issue, or the actual unit itself.